If you need professional MBA essay help, you can check our website. Our first-rate MBA essay writing service is tailored for your specified subject concentration. You can contact our customer support via live chat if you have any questions.
The essay for your MBA program is an important part of the admission process. It provides the opportunity to stand out from the crowd and show your persuasive writing skills. You need to perform sufficient research on your specified topic before you can write your essay. It requires time and skills to write in a professional manner that can catch the attention of the admission committee.
Business schools that offer MBA programs are looking for candidates whose skills and past experiences can enrich their classes. To get selected into the top programs, you need to market yourself and develop a clear vision of what you have to offer. This is where our writing service comes in. Our experienced writers know exactly which points to emphasize and how to formulate it in the most optimal way.
Order an MBA essay from Handmade Writing and increase your chances of being chosen in the program. Keep in mind that the admission committee will pay attention not only to your main ideas but also the quality and style of your writing. This is why it pays off to let a professional writer do the job for you.
A well-structured MBA admission essay will make your application stand out and raise your chances of being accepted into a program. In addition, an MBA essay written in concise language will show that you can set clear goals and achieve them quickly.
However, writing MBA application essays becomes a stumbling block for many applicants. A great MBA essay requires you to invest time and effort into writing. Every detail may play a crucial role. This is where an MBA essay writing service can become a life-changing solution.
Why you should use our MBA essay writing service
We can guarantee that you will not miss your deadline. Our essays are always unique and free from plagiarism. We have a proven track record of writing outstanding essays that have helped other MBA candidates get accepted into the top programs.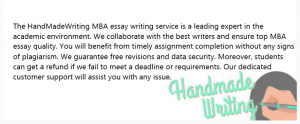 We have over 15,000 satisfied customers and 800+ experienced writers at your service. We can reach the level that is necessary for you to succeed in your application. Our writers can work with any type of assignments you can think of. For example, you can also buy an argumentative essay from us.
MBA writing might be challenging for an inexperienced writer as you must consider many factors. However, MBA essays should have a clear structure and contain information about your motivation and accomplishments.
The first impression is crucial, so you may need to outsource the task of creating a polished application to a reliable MBA essay writing service. Most MBA essays require you to answer a question asked by a school. Experienced writers will help you stay on point. They will create the best MBA essay that will mention what contribution you can make to the program.
MBA essay writing tasks might include an additional essay. While such tasks are optional, professional essay writers will help you use them to stand out among other applicants. Before writing such an MBA application essay, they will ask you about inspiring family stories you might want to share.
Start
saving time
on your work
How do we ensure that your MBA essay will stand out?
A common mistake for many applicants is not doing enough research. Before you can explain why the MBA program fits with your career goals, you need to have enough information about your specific MBA program and its core requirements. Our writers have written numerous essays for MBA programs before and know how to highlight the skills that will make you thrive in your chosen program.
It's part of our policy to communicate closely with our customers. Close communication helps the collaboration and ensures that you will receive an essay that sounds like you. We ensure that your MBA essay will capture who you really are.
Your achievements don't need to be anything extraordinary. It's enough that you describe your strengths and past experiences which have made you the person you are today. Differentiation from other candidates will occur naturally. We have been in the business long enough to understand the requirements of each type of essay.
Need an essay writer for your MBA assignment? Contact us, and our experts will help you with the essay!
What do we offer?
When you buy an MBA essay from us, you will receive a polished text with all the qualities that MBA admission committees are looking for. Reduce your stress and increase your chances of getting into your favorite MBA program by letting an experienced writer take care of your essay.
By choosing our MBA essay writing service, you will get the following benefits:
Experienced writers
Our writers are professionals who are specialized in their niche and have many years of writing experience. They have written numerous academic texts for different purposes. All of them have been carefully screened by our Quality Assurance Department.
Affordable prices
Our prices are one of the lowest on the market. However, since we're not willing to sacrifice on our quality, we do not offer our services for too low. This is the only way to make sure that our skilled writers receive a fair compensation for their work.
Professional customer support
Our customer support is available round the clock. Feel free to ask questions about our services at any time. Our support team is always pleased to help you whenever it's convenient for you.
Strong guarantees
We value our customers. That's why we have a strict policy about zero plagiarism or pre-written papers. We offer a free revision warranty for all of our customers. In case you're not satisfied with our MBA essay writing services, you can contact our support team and request free revisions. You're also entitled to a full refund before approving the essay if your requirements or deadline haven't been followed.
What Makes Our MBA Essay Writing Service Stand Out
Our admission essay writing service has a team of professional writers who know how to get your application noticed. In your MBA application, they will demonstrate that you are a leader who can create viable solutions and inspire others.
Whether they write a standard or menu MBA essay, we follow these steps:
Emphasize what makes a client better than other applicants
When writing an MBA application essay, we list the reasons that will make you a valuable asset to your school
Use an engaging MBA writing style to impress the admission board
Challenge common perceptions and show that you are willing to take risks
In your MBA application essay, our writers might also show how your unprivileged background impacted your achievements
In addition, MBA admission essay writing requires using examples taken from real life. We know how to make your MBA application inspiring and drive the admission board to approve it. We won't use any sob stories. Instead, we will portray you as a true leader capable of building a strong business.
Our MBA essay writing services are quite affordable. You can save a lot of time and effort by contacting our company. The team meets tight deadlines. We will send you the best MBA essay with the right formatting to help you get accepted into top schools.
Here's how easy it is to hire our essay writers
01
02
03
04
1 step
Submit your instructions
Fill out the order form to inform us exactly what needs to be done. Please choose a relevant subject, indicate your deadline, and provide thorough instructions. This data will help us select the most suitable paper writer for you. After that, make a secure payment and contact your paper writer directly to discuss your order or ask questions (if needed).
2 step
Your essay writer gets down to work
The assigned paper writer does research and completes your order in accordance with the provided guidelines and writing standards. Please be aware that all our essay writing experts always use credible, up-to-date sources and write content from scratch based on the research findings to ensure that the delivered paper will pass Turnitin.
3 step
Relax or take an active part in the process
While your essay writing assistant is busy writing, you can relax or focus on other important things. You can also take an active part in the process by providing feedback to your writer directly through the message board in your customer area. When the order is completed, we'll send you an email notification.
4 step
Get a flawless essay from our essay writing service
Carefully review the completed paper as soon as you download it from the customer area with our professional writing service. If it meets your needs, just submit it. If not, don't hesitate to request free unlimited revisions. The professional essay writer assigned to your order will implement the requested changes so that you get exactly what you were hoping for.
How to use our MBA essay writing service?
Writing a persuasive text such as an essay for your MBA is time-consuming. But we can save your time from the tedious research and writing process.
To buy an MBA essay on our website, you have to follow these four simple steps:
Complete the order form by filling in all the details of your essay
Choose your preferred payment method and make the payment
You can chat with the writer who is assigned to write your text
Download and check your completed work on our website
Our MBA essay writing service is targeted for all candidates, regardless of your background. Why not save yourself from all the research and additional stress?
If you're not in the stage yet to apply for an MBA program but need help with your college application process, you can buy a college admission essay from us, too.
You can improve your chances by entrusting the task of writing an MBA application essay to a reliable company. MBA essay writing services will help you submit several applications to leading schools in time. You will get the best MBA essay mentioning your achievements and stating your goals. Your MBA application essay will demonstrate your competitive edge over other applicants. Order professional MBA essay writing services today and get accepted into the school of your dreams to build a successful career!
Reasons Why Students Request MBA Essay Services
There are several reasons why students can order MBA essay services on our website:
Lack of time. Often MBA programs are very demanding and require students to combine several courses or assignments at the same time. It takes a lot of time to write a successful letter, and because of this, students turn to our service with a request for "help with MBA essays".
Difficult topics. MBA essays often capture complex theories that require students to have a lot of in-depth knowledge. Some students are not able to fully understand the concept, which makes it difficult for them to formulate correct thoughts. Contacting the MBA essay service for professional assistance helps to make their essay quality and successful.
Lack of skills. To write a successful essay, students require high research and writing skills. For some students, this task becomes too difficult and the option to turn to professional MBA essay writers is the most correct.
Striving to be the best. The MBA program is quite complex and competitive. In this regard, students who have chosen to apply to our service for professional help are several times more likely to be the first and unique.
It is important to note that although it is helpful to seek help from our best MBA essay writing service, students should understand the need to have academic integrity and ensure that the specialist assistance they receive is by the principles of the particular institution.
Quality Essay Writing Service for MBA
Our essay writing service for MBA offers students professional help from experienced experts who have a high level of qualification and many years of experience with similar assignments. We care about the success of each student and do our best to ensure that he succeeds. Writing MBA essays is quite a responsible and difficult task, especially for students who are not confident in their analytical and writing skills. In this regard, the best specialists in our service come to the rescue, who are ready to cope with the task of any complexity in the shortest possible time.
Experts have passed many tests and knowledge checks before joining the team of specialists, so you can trust us and be sure that your document will be successful. If you understand that writing an MBA essay takes too much time and you are unable to do it yourself, place an order on our writing service and professional authors will do it for you!
FAQ
What deadlines can you handle within your facilities?
With almost a thousand multi-skilled experts in our team, our platform can take orders even with a few-hour deadlines and manage them even faster. Such a rapid pace never implies compromising the quality or custom task instructions, instead, we always prove our company as your best MBA essay writing service worthy of your consideration.
Who will be assigned to my order as an MBA essay writer?     
We assign projects to experts with appropriate academic degrees. If you acquire assistance with a dissertation, our system will match you with a specialist qualified in your specific area and holding a master's degree as a requirement. Our team comprises experts with writing and analytical mastery and proven technical expertise in their fields of competence.
Can you supply me with any free services?
The variety of free perks you receive while applying to our essay writing service MBA is not limited to free options for contacting customer support. comprise online direct chat with a specialist, unlimited in-text citations and 2-week amendments, title and references pages' arrangement, and order status updates.
Can I message my expert during the order performance?         
Our company enables direct communication between a client and an assigned specialist. This option is at no cost to clients and provides numerous perks for examining the progress of your order performance and clarifying any nuances regarding your assignment. Going to your customer area you can check out the direct secret messenger for contacting your expert. All the emails are secured through complex encryption protocols.
What should I do to order an MBA essay with your website?
Learning a few-step guide will suffice to purchase a top-notch paper from our MBA admission essay writing service. No tricky algorithms but one button to click to leave your request for writing assistance. Go to the order form page by clicking "Order now" and indicate the paper instructions. You also can add further services to your order. The final stage is creating a customer area via your email and depositing money to the created account.
What assurance of my satisfaction do you supply?
Our major-oriented experts are high academic degree holders and possess well-honed writing mastery and immense expertise. Subsequently, 98% of our clients find our services effective and almost all of them return to our assistance as a viable option for tackling their writing blocks. Anyway, you can request further amendments to the written piece if you are not 100% satisfied.
What clients say about us:
Most of our clients, or 97% to be precise, are happy with what they get in the end. Moreover, they return to our services again and even bring their friends. You can use our assistance too.
Subject:
English, Literature & Philology
The essay that your paper writing service provided exceeded my expectations! I've never received a better work from an online essay writer, so I'm really pleased with the outcome. I'm confident I'll earn the highest grade. Keep up the good work!
Subject:
Ecology & Environmental Science
Im having a hard time juggling work and college, therefore I rarely have time for writing essays. You guys saved my life, so I'm glad I chose to employ your service to do the assignment. I received my essay on time despite my assumption that it was impossible to compose such a wonderful essay in only a few hours. I will definitely hire essay writers from your company in the future.
Subject:
Health Sciences & Nursing
This was one of the most difficult writing assignments ever! I'm glad a friend introduced me to your paper writers. After placing my order, I got a chance to communicate with the writer and ask questions about my assignment. Thank you for your assistance with my thesis. Handmadewriting is truly the best essay writing website!
Well, at first, I wasn't sure if I would receive a good paper. However, the writer of my essay surpassed my expectations. I appreciated the helpful advice and felt properly taken care of as a result. Thank you; will always use your custom essay writing service and recommend it to friends ;)
Subject:
Macro & Microeconomics
Outstanding effort! My research paper was handed in five hours and delivered before the due date. I had plenty of time to get ready for other classes as a result. The paper was well received by my professor, and I earned an A. Many thanks to the writer of my paper!
Subject:
Business & Management
My prof's comments: You put a lot of effort into the paper. I especially enjoy how you gave the reader a sense of what to expect at the beginning of the paper. You skillfully discussed each of the Ps of marketing and backed up your arguments with thorough research. I appreciate you providing such an interesting read. The research paper is impressive.
Your assistance is very priceless to me. I was initially afraid to hire your essay service because it was a really important project. However, my professor was impressed by your thorough research on the subject. I'll tell all of my friends about your essay writing services.
The paper was very well done, and the writer followed my instructions while responding to each question. The format was also followed, and personal beliefs were added in addition to the references I required. I'm pleased with the writing style and the free essay bot is awesome too. 5/5
WOWSIE! My essay is ideal in every way. The essay writer exceeded my expectations. The work was improved in the final revision to the point where it was perfect for submission. Best essay writers! Thank you!
I'm not a fan of Philosophy, but the course was vital for my future employment. So, I really needed help. Jessica completed my Philosophy essay with flying colors; I never read anything more professional and reader-friendly than that. Will definitely come with more Philosophy orders to her!
My MBA course is a real pia, so I often turn to HMW's authors for help. This research paper was just wow – I loved the way my new writer shaped the argument. The sources were absolutely amazing – I would have spent three days finding them and making notes. You're a real-life savior!
Subject:
Medicine & Health
The words "systematic literature review" were always frightening for me. Just can't get how to write one. But you guys just nailed it! The professor was happy with the paper, and I passed it. So many thanks.
This essay finally got me an A+, thank you soooo much, guys. Your service is invaluable – I love the ease and convenience it gives me, even when my studies are in full swing. Thumbs up, keep doing this great job for students!