Guides
29 June, 2020
11 minutes read
How To Write a Personal Statement and Get Yourself Enrolled?
You have just finished your studies. It's a perfect time to get yourself enrolled to the next step of your academic journey, isn't it? With all the burdens that come with it, one does particularly stand out. It's a personal statement. You might wonder what to include in the personal statement, what tone and style to choose, and how to format the paper right. We will address all of these questions in this guide. So, read on: you're about to solve this riddle!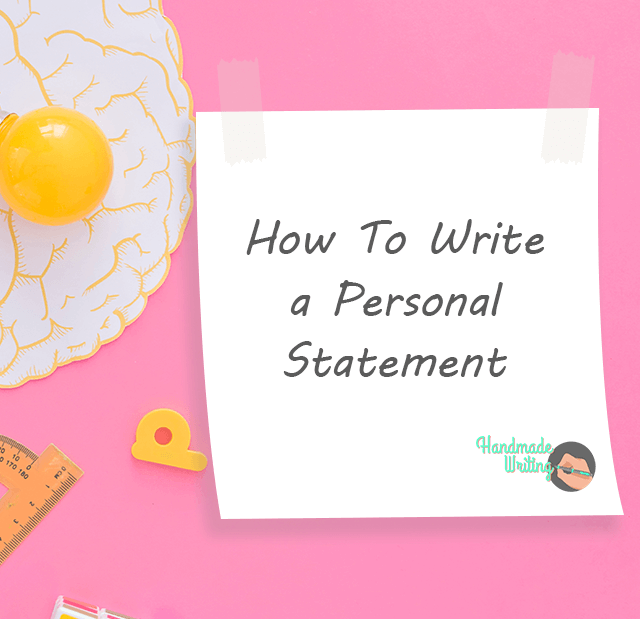 You have just finished your studies. It's a perfect time to get yourself enrolled to the next step of your academic journey, isn't it? With all the burdens that come with it, one does particularly stand out. It's a personal statement. You might wonder what to include in the personal statement, what tone and style to choose, and how to format the paper right. We will address all of these questions in this guide. So, read on: you're about to solve this riddle!
What Is a Personal Statement?
A personal statement is a short document that introduces yourself and proclaims your motivation to get applied to a College or University. A well-composed paper will show your qualifications, experience, qualities and unique components of you as a promising candidate to join the Alma Mater of your desires. Also known as admission essay, it is a showcase of your skill set as well as the proposition to offer your "services" to a University.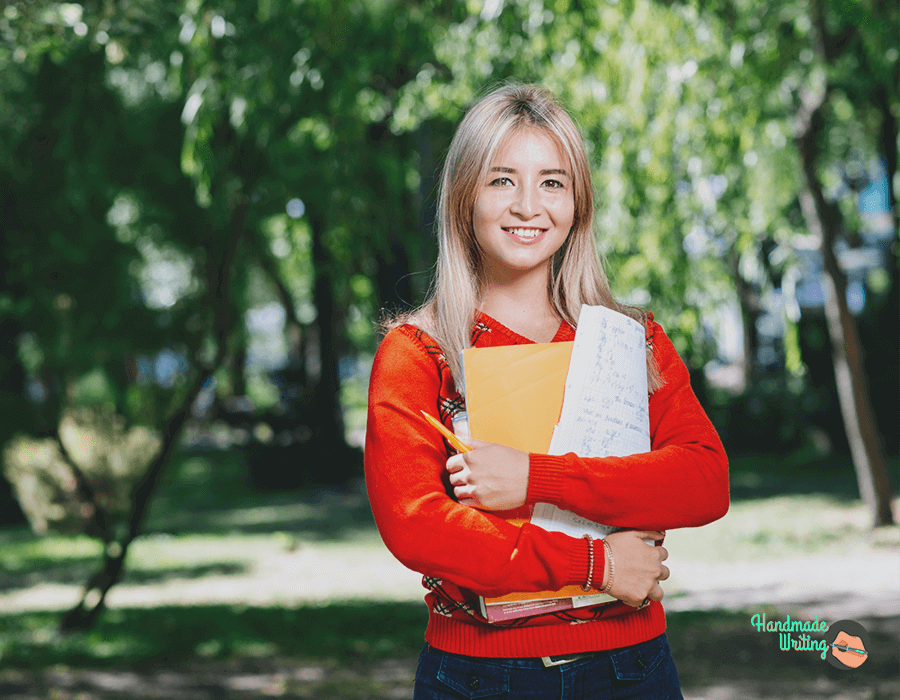 As the name of this paper implies, "personal" is what needs to stand out in the first place. The personal statement should be saturated with your personality and character – something that will help you stand out of the crowd.
The main goal of this creative paperwork is always the same: to show your very best self. The University usually doesn't require you to furnish a photograph of yourself during the admission process; therefore, the application is your only opportunity to disclose who you are and to demonstrate your ability to prosper in the school. We, as professionals in the custom writing business, know how to pay special attention to such papers – we host expert essay writers who are specifically trained to furnish them in high quality.
How to Write a Personal Statement
Quite frankly, the priority one target here is to "sell yourself". The best starter is to ask yourself pretty fundamental questions like:
Who am I?
Why am I passionate about this profession/field of studies?
What can I offer to the organization?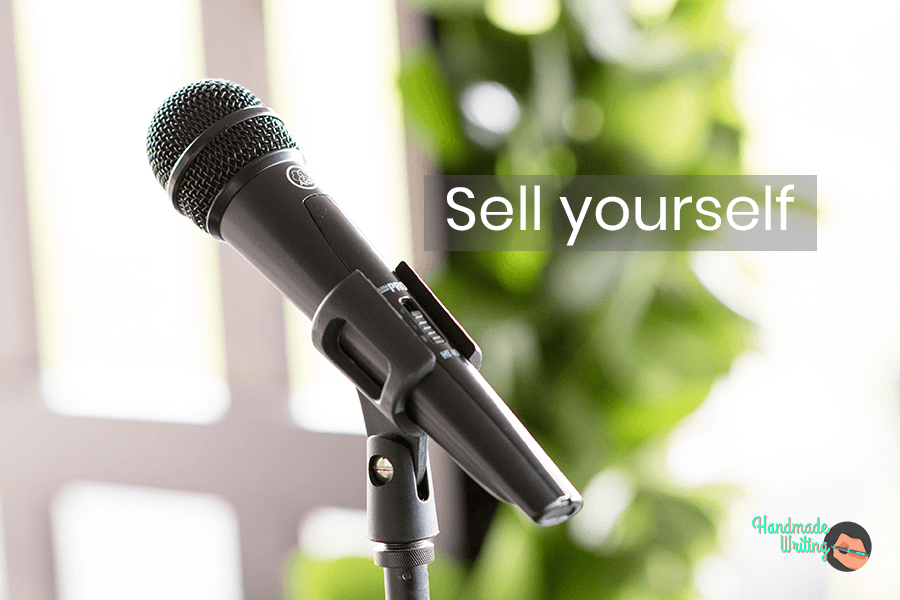 Draft the answers to the mentioned questions. That's something to keep within your view throughout the whole process of writing a personal statement.
Then, you need to clearly define your strong points. What makes you so unique? What qualities do you possess that others surely lack? These details might be imperceptible at first glance, and no University guideline will ask you to underline that. But those are the only anchors that could attract the admissions officer's attention when he compares you to the other candidates.
Just think of how many contestants you are competing with. Is it a hundred? Maybe a thousand? Now, how many of them have the exact same GPAs or average grades? Your personal statement should shine like an orange diamond in a pile of carrots. It should be in the zone where the scores won't matter anymore.
Moreover, the officer understands that classroom grades depend on disparate factors (such as the professors' perception of what students should, or should not, know). The only way a selector can choose a student is through the impression formed in reading his or her personal statement. Make sure to write the truth about yourself – underestimating your achievements is as bad as exaggerating them.

Getting Started
While the personal statement is quite a creative paper to write, it takes some planning before you kick things off. Take the time to reflect on what you are going to write. You don't write it just for the sake of writing or to fill up the pages, nor should you write too much about any particular skill you possess. We strongly counsel you to not only think about what you can provide but also about how your talents suit the program's requirements. If you apply for business studies, you should mention your leadership talents and experience. In this case, your sports achievements are not that relevant, but they could surely be worth mentioning.
To start off, write down all the fundamental facts about yourself: your background, education and any awards and/or prizes you might have earned. Don't go into much detail, we are just outlining the ideas that will be deployed throughout the essay for college admission. Keep in mind that you will be connecting all those premises to ideas and principles behind the University or College you are applying to.

After you have gathered all the information, the next step is to put it into a specific construction. The following section will help you do that!
Writing and Structuring Your Personal Statement
While it may seem that strict structure is not applicable here, the truth is far from that. It is vitally important to put things into a logical chain, to apply a narrative footprint to the personal statement.
Introducing… Yourself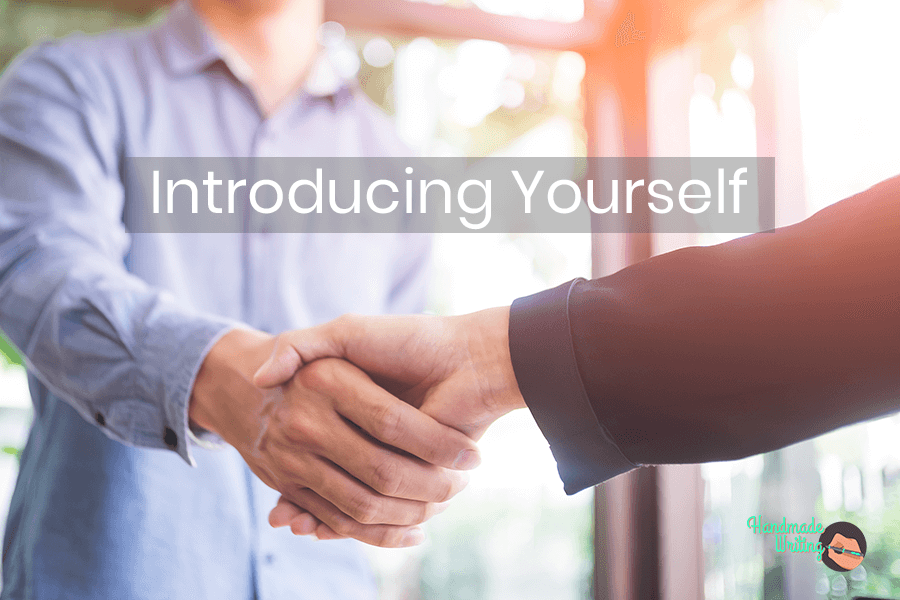 The reader will draw the first impression about you from your Introduction. The introduction of an essay for college admission serves a purpose that's similar to any other essay introduction. It's somewhere between advertising memo and a standard academic requirement – you need to get the attention of the reader. Your personal statement needs a hook. Then, you surely need to disclose an idea or a concept, that is entangled to the University itself. After you present the idea, you need to narrow it down to your personality and how you will fit in the structure of the institution.
The thesis will help you deliver the main idea of the personal essay: it's time to tell the reader why do you want to study at this University or College!
Going through the admission can be a devastating practice. The good news is that you can get professional personal statement help with our service!
The Body
Lay out your educational background and ambitions in the Body of your personal statement. This part might be split into several paragraphs, each being a short summary of your academic profile. In the outset of the Body section, you need to keep things brief and concrete. A good starting point is to describe your major subject (Mathematics, Ecology, etc.).
Thereafter, express your enthusiasm for this position. What makes you feel great in your field? How can you improve it? What is the motivation that impels you to succeed? And…

How can the university help you aсhieve your aim?
This question is the key to your success! Marrying your ambitions with the place you are enrolling to is a win-win.
Your goals here are to do some in-depth research before applying:
First, find out who are the professors that are engaged within your field at your intended university.
Second, unearth some specific courses that the school is famous for and any awards the college has achieved.
Some of the other applicants may not think that it's relevant here, so it's low-hanging fruit for you on the journey to impress them all. No one looks better than a candidate that dedicated his time to do proper research.
Finally, you should connect the dots. Explain why you are a good fit for this University. Your reasons and arguments should be everlasting – no one should even intend to doubt them. By this stage you surely have made your research about the institution, so make sure that you know exactly what you are talking about. Express ambition to become a part of something great. Be transparent with your notion, and don't pile them over with obvious facts about the University – it's much more about you than the institution.
Drawing The Line
The Conclusion of the personal statement might come as a hard nut. It might just seem that you have already covered everything the commission required you to include. There is no need to be repetitive, the conclusion needs to summarize what you have stated before.
There are several approaches you can take when formulating the Conclusion. The rule of thumb here is to be original. Project your successful post-enrollment future. Compare yourself to honorary students from the history of the University. Invite the whole institution with its rules and culture to join you on your journey. 
Here is a brief example of a successful personal statement: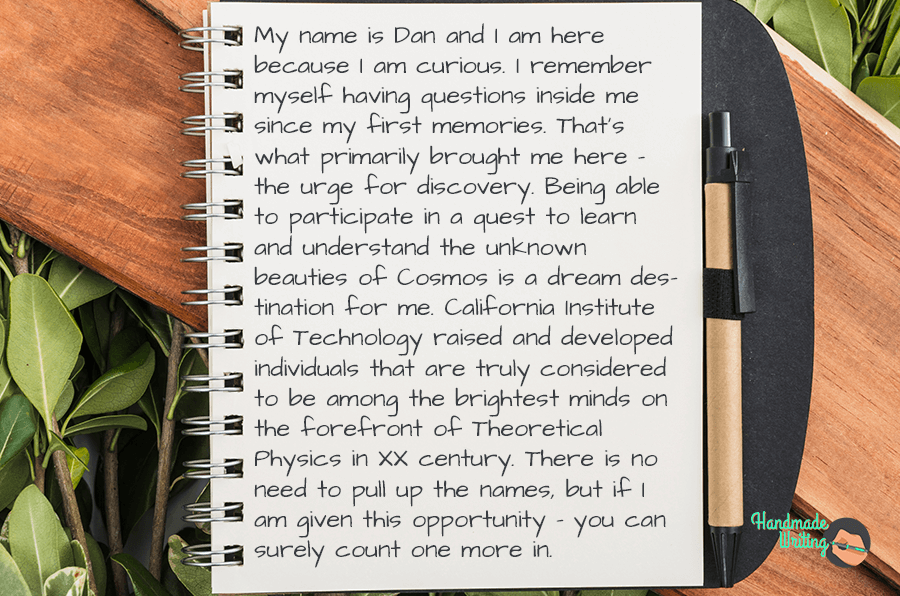 What about Personal Statement Format?
It surely is. While most of the Universities out there do not require to use a concise and specific format type, the finest examples of personal statement papers followed simple patterns. A precise and tidy visual picture is indispensable if you want to make a good impression. Try to use conventional formatting rules: use a pleasing font, keep your paragraphs short, and make the layout precise. This is not the time to try something extremely visionary, right?

This is an application to an academic institute, so bright colors and an unusual layout may look incongruous. We would recommend making it plain and simple, using a clear and easy-to-read style.
Good Personal Statement Examples
Example #1
Personal statement 1

Example #2
Personal statement 2

Example #3
Personal statement 3

Personal statement tips 
Pay close attention to your spelling and grammar; even if you believe you are going to be the university's future shining star, any spelling mistakes or typographical errors will cast a shadow over your admission process. Try to find a perfect balance between an easy-going paper and an academic masterpiece.
Give your personal statement to someone to have a look at it. Either a professional editor, a fellow student or a relative – have someone with a fresh and unbiased view to read it over.
Ensure you support your statements with written testimony. If you write about your "impeccable knowledge of Theoretical Physics", back this up by lifting up the courses you studied and awards you achieved.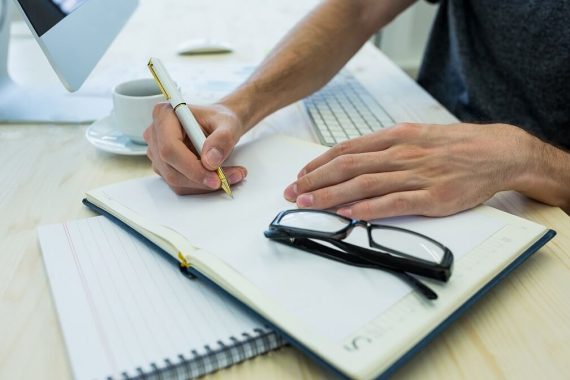 23 November, 2022
27 minutes read
Guides
Best Essay Writing Services 2023
Student life can often be quite challenging because students have to deal with challenging college essay writing assignments. To facilitate the learning process, many services help you complete written work and get high scores. Now we will tell you about the best services that you can turn to and get high-quality papers. Essay Writing Service […]
Read more...